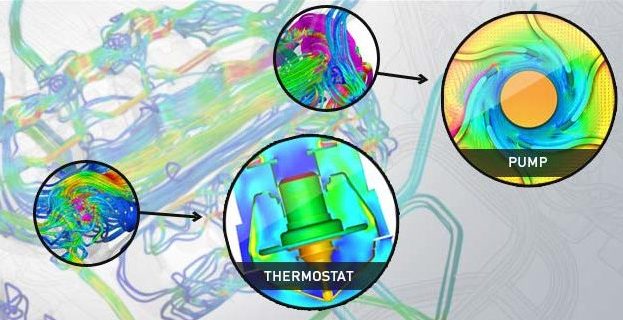 MAIN FEATURES
Simerics-MP+ for Systems ® is a 3-D Computational Fluid Dynamics (CFD) tool that combines the capabilities of Simerics-MP®, Simerics-MP+ for Turbo®, Simerics-MP+ for Valves® and/or Simerics-MP+ for PD® to simulate complex fluid systems with unparalleled accuracy and speed.
Comprehensive physics

Flow, turbulence, conjugate heat transfer, real gases, aeration, cavitation, particles, and fluid-structure interaction.

Accurate predictions

Excellent correlation with test data for a wide range of systems.

Fast model creation, even faster simulation speed

Complex system models created in less than a day.

Able to model complex details down to the micro scale

Accurately model a variety of integrated components and systems.
KEY ADVANTAGES
Simerics-MP+ for Systems® is built on Simerics-MP+'s® baseline technology to provide a transient 3-D simulation software uniquely suited for the analysis and design of complex fluid systems.