Simerics has formed strategic solution partnerships with the following companies to augment 3D design with Simerics MP.   These solutions are integrated with Simerics MP to help you create fluid volumes both within, and outside your 3D model or assembly.
 If you are interested in becoming OEM Partner, please click
here

is a leader in 3D design, engineering and entertainment software.

is a leader in CFD-driven shape optimization of complex free-form geometries.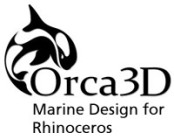 is leading developer of vessel design software and Global OEM for Orca3D Marine CFD.

is a global technology provider of the leading IoT and AR platform and field-proven solutions transform how companies create, operate, and service products.

Rhino from McNeel and Associates
can create, edit, analyze, document, render, animate, and translate NURBS* curves, surfaces, and solids, point clouds, and polygon meshes. There are no limits on complexity, degree, or size beyond those of your hardware.

Powered by the 3D EXPERIENCE® Platform,
delivers realistic simulation applications that enable users to explore real-world behavior of product, nature and life.

Dassault Systèmes SOLIDWORKS Corp.
offers complete 3D software tools that let you create, simulate, publish, and manage your data.

is the 3D modeling company supplying 3D modeling software as a stand-alone solution, or as a value-add for your products.