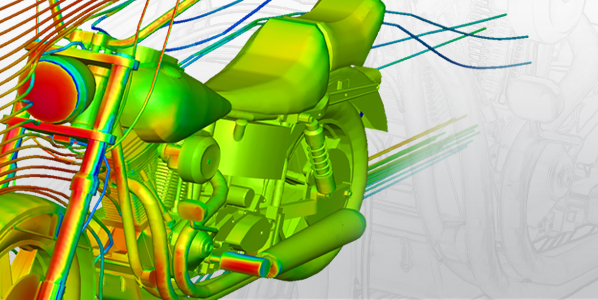 EXTERNAL FLOW
Aerodynamic of a Harley Davidson motorcycle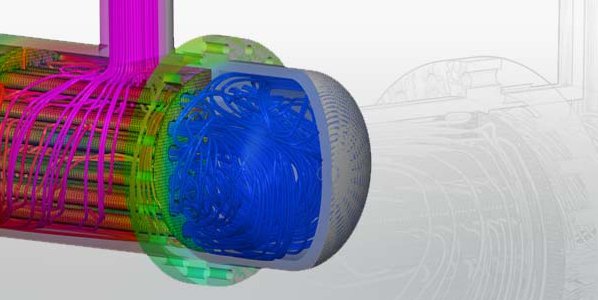 HEAT TRANSFER
Modeling of conjugate
heat transfer of a shell
and tube heat exchanger
MAIN FEATURES
Simerics
®
MP is a collection of core 3-D CFD capabilities and physical modules that enables accurate virtual testing for multi-purpose (MP) applications involving fluids, heat transfer and fluid-structure interaction. Simerics
®
MP was developed at Simerics using the latest in CFD architecture combined with Simerics' proprietary algorithms and physical models. The unique advantages and capabilities of Simerics
®
MP are as listed below:
Comprehensive physics

Flow, Turbulence, Conjugate Heat Transfer, Radiation, Aeration, Cavitation, MultiComponent Mixing, Free Surface, Particles, 1-DOF dynamics

Accurate predictions

Excellent correlation with test data for a wide range of applications

Fast model creation, even faster simulation speed

Less than an hour from CAD to Simulation, < 15 min. for steady-state results

Able to model complex details down to the micro scale

Accurately model detailed features with no simplification of the geometry required
KEY ADVANTAGES
Simerics® MP provides state-of-the-art numerical capabilities and ease-of-use at a cost equal to or lower than codes with less capability.
SIMERICS-MP MODULES
FOR Multi-Physics Simulations
Simerics®-MP
provides modules to enable the solution of a broad range of physical problems.
Core Modules: Heat, Flow and Turbulence
SYSTEM REQUIREMENTS
Simerics
®
MP is able to run on a standard desktop machine with speed unsurpassed by other software
Operating System
Windows XP or newer; 32-bit or 64 bit (64 bit recommended)
Linux Red Hat 5.x or newer; 64-bit version
Graphics
Open GL support required (never version required for some functionality
1 million mesh cells require approximately 1GB of RAM. A single component model typically requires approximately 0.5 to 1 million cells.